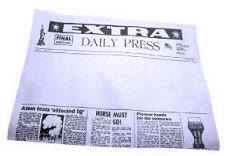 Many agencies offer PR services, but Metropolis 2 provides an entire PR solution. This solution for many clients focuses upon the entire spectrum of media relations, for example managing their press office, not simply writing two or three press releases each month.
That said, some clients' objectives and aspirations call for PR campaigns which include internal communications, community or corporate relations, lobbying, seminars, or newsletters
The likelihood is that whichever solution is required, the common denominator will be that successful management of the client's reputation is paramount.
For more information on what Birmingham PR agency Metropolis 2 can do for you in regards to Public Relations, contact us today or alternatively check out some of our case studies. For example:
GISC - Track PR-generated coverage in professional and consumer press
Transint - Raise profile via PR campaign
MIS - Produce a newsletter to convey engineering capabilities
MedicDirect - Launch of a new venture
TOREX Retail - Promote capabilities and increase market place confidence
learndirect - Metropolis 2 wins PR account
Nuffield Hospital - design, write and print a newsletter to communicate with local community